Welcome to Yirmi's World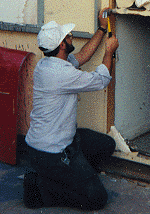 This site is under construction.
Hi, I'm Yirmi. I live in Hadera with my wife Shoshana and son Eliyahu.
I am now founding High Profile Website.
Previously, I worked as a software engineer for C-Ark (formerly BAAN) in Kfar Saba. Before that, I worked at FundTech in Ramat Gan. When I lived in America, I worked the Management Consulting Department of Deloitte & Touche.
I studied in Yeshiva University, where I got my B.A. in Computer Science. I also studied at BMT in Jerusalem.
---
---
Please see The Jericho Page
Please visit HaTenu'ah LeChinun HaMikdash
---
Do you have a site that shines with the light of Torah?
If so, it would be a great honor to grant your site the...




CLICK HERE TO APPLY
---
Please feel free to write me at fischer2@netvision.net.il. Looking forward to hearing from you.